Digitizing Credentialing:
The future of healthcare is now!
At IntelliCentrics, we help healthcare organizations turn credentialing and privileging from a cost burden to a profit growth driver. How do we do it? We digitize everything for you.
The concept is straightforward. The faster you can bring your providers to market, the faster they can treat patients and the faster you can start generating revenue. Everyone wins when we digitize credentialing.
Want to learn more? Schedule 15 minutes with us and see how we can modernize your credentialing process.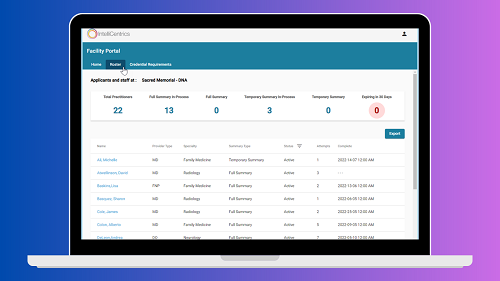 Improve access to high-quality care
Digital credentialing and privileging means your highly qualified medical staff can start practicing medicine much faster, making care timelier and more accessible to patients. Our digital platform can verify credentials in the time it takes to hard-boil an egg.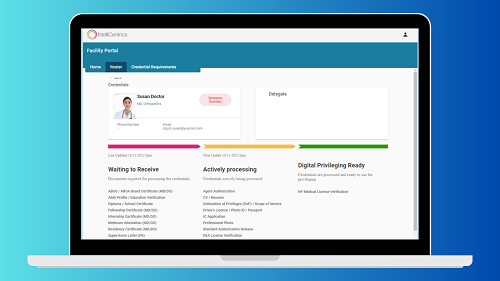 Speed up time to revenue
When your providers are credentialed efficiently and see patients without administrative delays, your facility will be able to generate revenue at an accelerated rate. Our platform creates digital, privilege-ready files within days, not months, delivering a substantial revenue impact.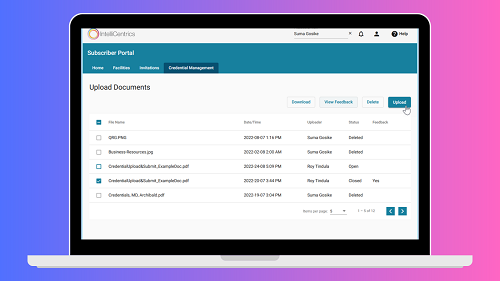 Reduce administrative costs and friction
We offer credentialing services at a fixed cost and keep provider data in a single platform, eliminating variability in costs and streamlining the entire data management process - from gathering to monitoring. You can easily access, track or report on provider data 24/7.
A process as easy as 1-2-3
We offer a 3-step collaborative process to save you time and money.
1. Post Policies
You provide us with your policies and credential requirements. We post them to our digital platform.
2. Verify Credentials
Medical providers submit their credentials. We verify them and create everything to your exact standards.
3. Deliver Digital Files
Your medical providers each get a digital, privilege-ready file. You get a digital dashboard available 24/7.
Book a meeting now
Fill out the form below to schedule a 15-minute chat with one of our team members.